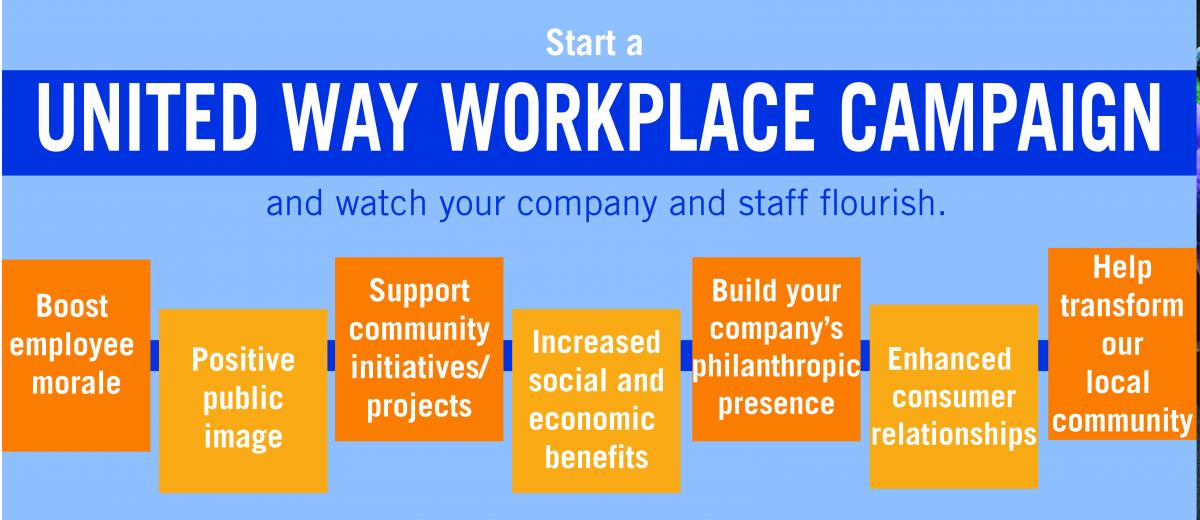 Does your company have a philanthropic platform?  Does your company want to be more involved in our community? 
If you answered yes, we encourage you to get involved with United Way of Forsyth County and our workplace campaign!
At United Way of Forsyth County, we understand that you want to make a difference right here in our own community and we want to help you do that.  We also realize that each company is unique, and has unique ways to approach philanthropy.  We know that the best way to help people is to focus on the underlying causes of the most critical issues.  Here in Forsyth County, we help children and youth succeed; families and individuals achieve self-sufficiency; strengthen senior adults and we help maintain a safety net of essential human care services.
Each year we serve more than 50,000 residents through various programs and initiatives. The pandemic threatened many of our programs, thankfully we were able to fund vital services at 100%  last year due to the generosity of our donors. As we continue to Respond. Recover.Reimagine.Rebuild after the pandemic, we need your support more than ever. Consider hosting a workplace campaign, fundraiser or drive to engage employees, give back to the community and help build a better future for everyone in our community.
On the Campaign Resources page, there are a variety of tools and information to help you run a campaign within your organization.  Successful fundraising campaigns are a mixture of fun, enthusiasm, broad-based participation and careful planning.  The best campaigns have something else in common: a thorough understanding of United Way of Forsyth County and its role in making our community strong.  We hope you will find these resources useful as you learn about United Way of Forsyth County and plan for an exciting campaign.
We make giving easy by offering easy payroll deductions, a text2give platorm, recurring credit cards or make one-time donations by credit card, checks or cash. 
Thank You for being a part of the solution!  Your active role in the United Way of Forsyth County campaign will make building a stronger, healthier community possible.  Your time and energy are invaluable resources to your organization, our United Way and to our community.  If you have any questions, please feel free to contact Andrea Preston at 770.781.4110.  We are happy to assist you in any way.
Thank you for LIVING UNITED!