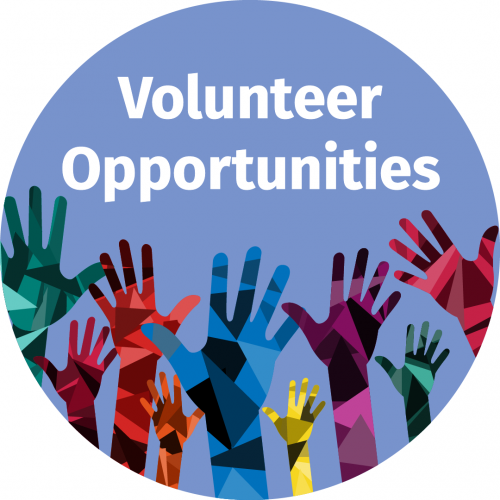 Volunteers are at the heart of our organization.  Plus, it's a great way to get involved in your community and see immediate results for your efforts. Thanks for considering United Way for your volunteer opportunities. 
Think about how you want to LIVE UNITED, and be selective about where you spend your time. Choosing opportunities that make you feel good while helping others builds stronger communities and enriches your own life at the same time.
Whether you have one hour, one day, or multiple days throughout the month or year, let us help find your place to volunteer.  We host businesses and individuals, no matter the size, give back to the community.  
For more information on United Way volunteer opportunities, call our office at 770-781-4110.
United Way of Forsyth County Volunteer Opportunities:
Day of Caring is United Way of Forsyth County's single largest volunteer day, bringing the community together to give back year after year. 
In 2022, approximately 549 volunteers packaged 130,000 non-perishable meals that were distributed to 4 local food pantries and programs.  Volunteers also packaged 2,000 Family Snack Packs, 1,000 School Supply Kits, and assembled 250 Literacy Kits.
As a Volunteer, you are working shoulder to shoulder with others who share your commitment to our community. 
SAVE THE DATE for Day of Caring 2023....Friday, September 1st at the Forsyth Conference Center starting at 8:00am.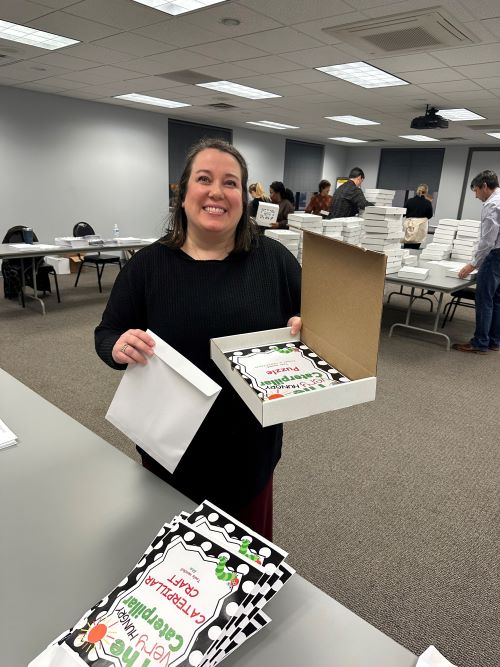 Literacy Kits
ReadingPals Literacy Kits are designed to enhance children's love for reading, develop math and vocabulary skills, use creativity, and to encourage parent involvement.
The kits can be assembled by individual volunteers or as part of a workplace volunteer event. Materials for each kit range between $10-$15. We can order all of the materials, set up the event, arrange to distribute kits. We can work with any budget.
Each kit contains an on-level book, 6-7 corresponding activity envelopes, a craft, and a school supply pouch which includes supplies needed to compete each activity. 
School Supply Pouch:  These pouches can be assembled by individual volunteers or as part of a workplace volunteer event.  School supplies needed for the literacy kits are: Crayola crayons (24pk), Crayola colored pencils (12pk), bottled glue, glue stick, kids scissors, pack of pencils, and a pencil sharpener.
Current kits include: The Very Hungry Caterpillar, The Little Red Hen, Biscuit's Earth Day Celebration, and I Can Save the Earth.

Snack Packs
Many of the students in our county attend school without bringing a snack for themselves. Thanks to many of our volunteers, teachers and counselors can pick up snack packs for their students.  Each snack pack is filled with an assortment of snacks (juice box/capri sun, chips, cookies, fruit snacks, crackers, granola bar, etc.) and can be assembled by individual volunteers or as part of a workplace volunteer event.
Hygiene Kits
Self-care is an important part of feeling safe and healthy, and personal hygiene items go a long way in addressing these needs. The hygiene kits can be assembled by individual volunteers or as part of a workplace volunteer event. Items to complete each kit include:  feminine hygiene products, shampoo, hairbrush, toothbrush and toothpaste, deodorant, and soap.
Stuff the Bus
Through Stuff the Bus, we work with local businesses, civic organizations and individuals to collect school supplies during the months of June, July and August for at-risk Forsyth County students. We then work with the Forsyth County School system and other local non-profits to identify students in need of assistance and distribute the supplies so that these students can begin a new school year with the items they need to be successful.  For more information or to see what items are needed most, click here.
United Way Subcommittee Members Wanted!
Through United Way, communities tackle tough challenges and work with private, public, and nonprofit partners to boost health, education and financial stability in Forsyth County. If you are looking for a place to demonstrate talents, we have a spot for you. Call Ruth for more information 770.781.4110.
Additional volunteer opportunities
Cumming Home Ministries - thrift store
Keep Forsyth Beautiful - outside clean up opportunities
Meals by Grace - food pantry and aquaponic farm
The Place of Forsyth County - Thrift store, food pantry, etc.